June 6, 2021
Cacio all'argentiera - Italian Fried Cheese with Honey, Oregano and Vinegar
Not yet tried, will update later!
Italian recipe by Rachel Roddy, Guardian Feast No 177, 5 June 2021
Cacio all'argentiera (cheese silversmith-style)
Halloumi - usual rectangular pack
(ideally it would be Caciocavallo, Mozzarella, Scamorza, Provolone)
Olive oil - 1 tablespoon
Runny Honey - 1 tablespoon
Red wine Vinegar - 2 tablespoon
Red Cilli powder - big pinch
Salt - big pinch
Fresh Oregano - small handful choped?
Serve with mixed salad, rice and flatbread.
In a small bowl whisk all the ingredienat together except the cheese and olive oil
In a pan over a medium heat, warm a little olive oil and then add 5-6mm thick slices of Halloumi. Should get 8 slices.
Cook for 3 minutes, until a light crust has formed, then, using a spatula, turn over (don't worry if it sticks a bit) and cook for another 3 minutes, so the slices are bubbling gently and, while not completely collapsed, considerably melted.
Pour the Honey mixture over the cheese, leave to bubble for 10 seconds, then turn off the heat, cover the pan and leave for 1 minute before serving.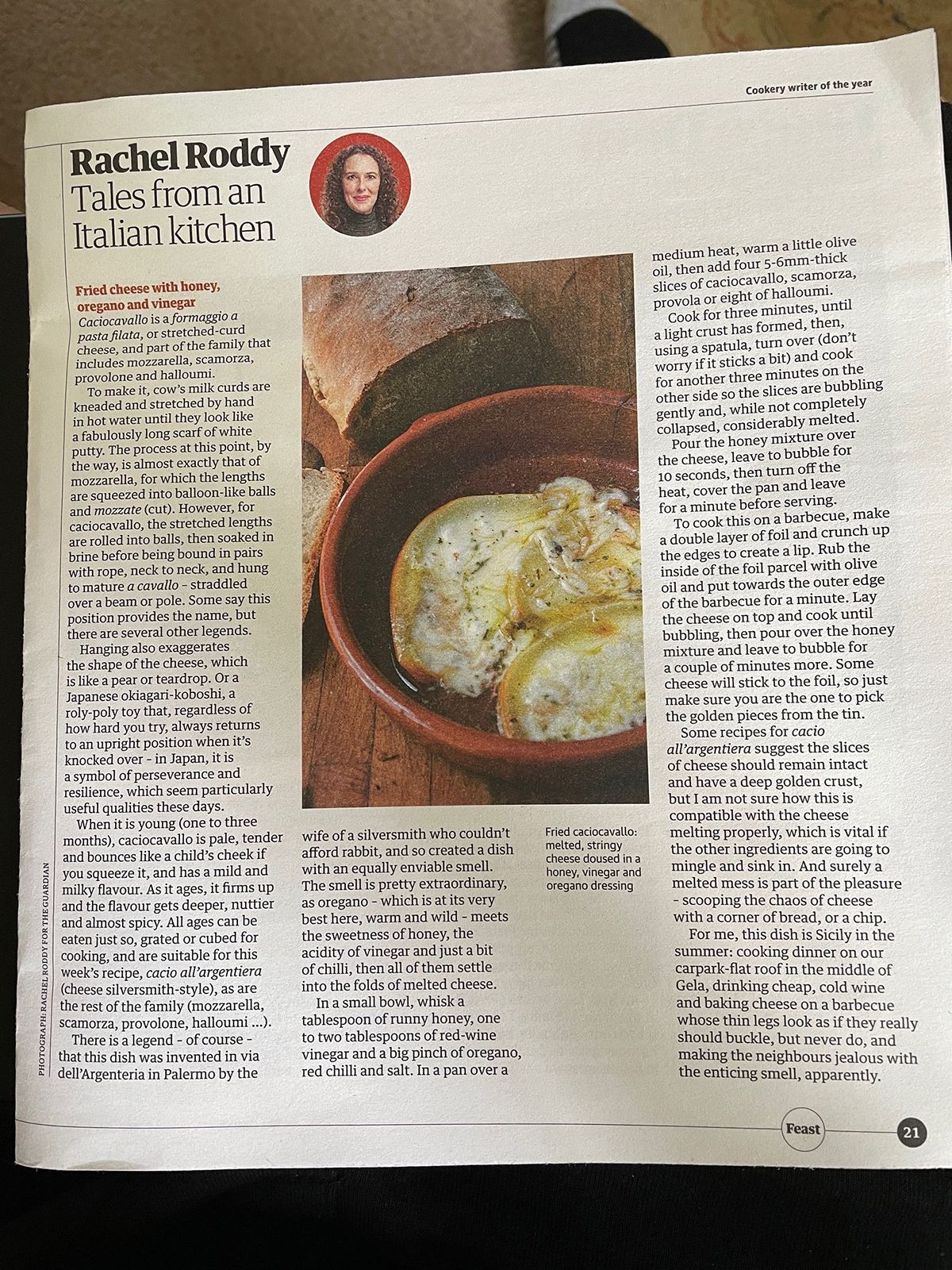 Original recipe in the Guardian
---
Previous post
Lenovo Customer Care re buying a ThinkPad - Third Rate
I'm buying a Lenovo Thinkad X1 Generation 9. Or rather I'm trying to. It's a premium product that Lenovo, via Digital River, are trying to support
Next post
Getting a Lenovo ThinkPad X1, Generation 9
A month ago I ordered a new ThinkPad X1 of the latest generation - Generation 9. My current ThinkPad is reaching the end of its warranty and things